In January, 2007, a radio friend suggested that we make a DXpedition (a radio expedition) to Prince of Wales Island off the shore of Alaska. I was excited at the prospect and began making plans. When I got as far as showing him a projected budget, he politely backed out of the project. I was very disappointed but was so excited that I determined to go by myself if need be. Fortunately, a good friend from the "old days" stepped up and said he'd go with me. By July, 2007, we were in Thorne Bay and participating in the "Islands on the Air" (IOTA) international contest. But, my, what a learning experience it was!
I am rather a timid soul, but I am a good follower. Rich Warren, N7TCO, is a born leader. He brought the gumption into our adventure.
In general, I don't do well in new situations, so I had to plan the Alaskan Adventure in great detail to build my confidence and comfort level. What with the ferry schedule being what it was, we had to stay in Thorne Bay nine days. That's a lot of meals to plan, food to pack, and experiences to anticipate.
Rich picked me up at three o'clock in the morning of Thursday, July 19th. It was an omen. You see, Rich got the date wrong and I wasn't expecting him until Friday morning! I met him at the door, groggy and disoriented but still able to stammer out a 'What are you doing here?' Rich looked a little sheepish when I told him about the mistake, but with his typical sense of adventure he just replied, 'Let's go now anyway!'
After six months of preparation, I was mostly ready, even a day ahead of time, but in the excitement, I left behind a box of important papers and small items I'd accumulated for the trip. I also didn't get a chance to do the last minute shopping for perishables. But with Rich's urging, off we went!
We drove to Bellingham, Washington, in about six hours. We found a motel to stay in and went off to see the town and find the ferry dock. Our big discovery was the American Museum of Radio and Electricity.
<![if !vml]>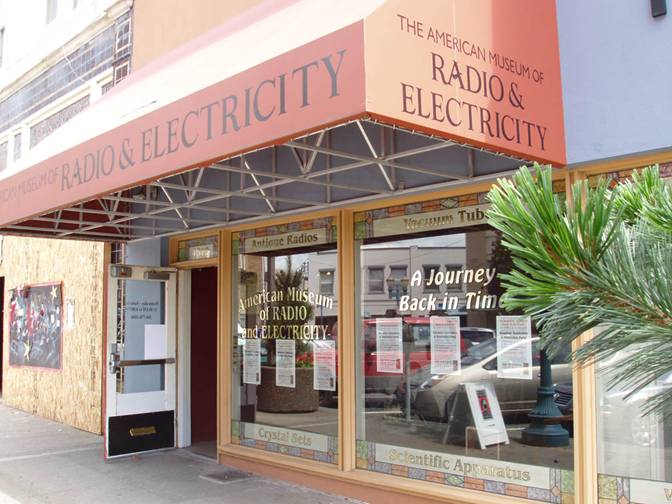 <![endif]>
<![if !vml]>
<![endif]>
The Museum was founded when two radio collectors joined forces and collections. They endowed the organization with enough funds to keep it going. They purchased a great building in old town Bellingham and filled it with excellent displays. They are doing a fine job and even attracting more collections to their care. In the picture above, Rich is looking over some of the tubes in Art's collection, recently moved from Art's home in Cresent City, California, to the Museum.
It took us a while to find the ferry dock – good thing we had an extra day. But find it we did, and we got in line to board the MV Columbia, part of the Alaska Marine Highway System. We were to ride it the six hundred miles to Ketchikan, Alaska.
<![if !vml]>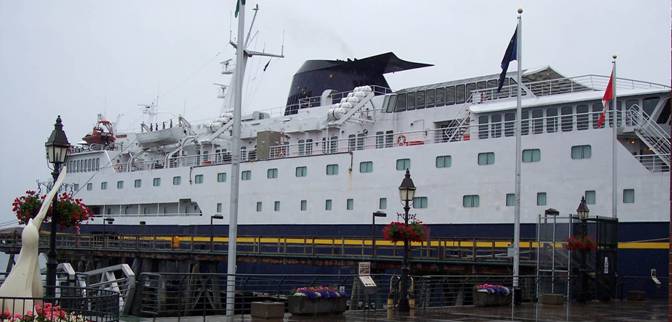 <![endif]>
The mission of the Alaska Marine Highway System is to provide safe, reliable, and efficient transportation of people, goods, and vehicles among Alaska communities, Canada, and the "Lower 48," while providing opportunities to develop and maintain a reasonable standard of living and high quality of life, including social, education, and health needs.<![if !vml]>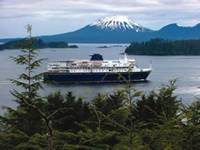 <![endif]>
The Alaska Marine Highway System has been operating year-round since 1963, with regularly scheduled passenger and vehicle service to 32 communities in Alaska, plus Bellingham, Washington, and Prince Rupert, British Columbia. There are currently eleven vessels in the AMHS fleet, with additional other ferries either under construction or planned.
During the past ten years the Alaska Marine Highway System has carried an average of 400,000 passengers and 100,000 vehicles per year.
Our first impression of Ketchikan was that it was a slow-moving little village; of course, though, we arrived at seven in the morning. We found a café open and had a good breakfast that was comparatively cheap (after the very high prices of food on the ferry). We drove up and down the main drag a couple of times, and then it was time to head back to the ferry dock to catch the Alaskan Inter-Island ferry, The Prince of Wales, which would take us from Ketchikan to Hollis.
<![if !vml]>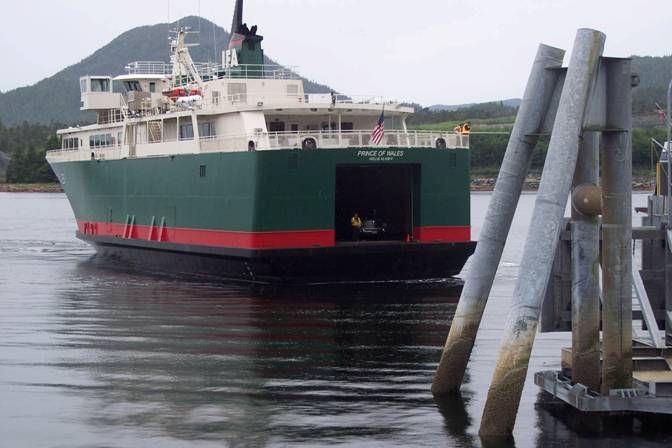 <![endif]>
Once in Hollis, we were on Prince of Wales Island! At last! Let the adventure begin! There was a two hour drive to get us to our destination, Thorne Bay, Alaska. That's when things started really happening – enough to make us cherish the word "flexible!"
Using the internet from home, I had located a nice rental in Thorne Bay. The idea was that we would appear to rough it to the folks at home. In actuality we would operate the week before the IOTA contest and the contest itself in the "lap of luxury." The rental was a fully furnished, two bedroom apartment. It came with clothes washer and dryer, outdoor patio, and a chest freezer to hold all the fish we would catch. Julie, our landlord, had even emailed me a sketch showing tree locations and distances – so I knew that the yard would be perfect for our dipole antenna. There were three possible sources of 220 volts to power the amplifier.
But the reality we found was far from perfect. The first thing I noticed was that the stove was propane, not electric like I expected, ditto the clothes dryer. There was a panel box in the bedroom, but it wasn't fed with 220v. How were we to power the amplifier?
Julie's diagram was not accurate and her distances were greatly exaggerated. We got one leg of the dipole up pretty well, but the other leg went off at a ninety degree angle and had to follow her roofline. I couldn't believe that I didn't research the terrain better: our apartment had a lovely view of the bay and the scenic fishing boats, but mountains surrounded us. Oh, and did I mention the power lines that ran parallel to our dipole about ten feet away from it? The proof of the poor situation was when we hooked our Hallicrafters Hurricane up to the antenna…and heard nothing. Rich pointed out that I could quit feeling bad about not being able to use the amplifier; we couldn't operate at all.
Rich was a rock in this and suggested that we go out and climb a mountain. I was in a blue funk and stayed at the apartment while Rich went out looking for a good location. He returned in a few hours with the news that about twenty miles from Thorne Bay was a great hilltop location, elevation about two thousand feet, with good propagation, a place where we could operate our radios successfully. I put on a happy face and said, Great! But I could see the "luxury" slipping from our grasp completely!
It was a good location, but we weren't prepared for a mountain top expedition. Rich said things would be fine; I rolled my eyes and thought the worst. Off we went to Craig, the largest town on Prince of Wales Island, population twelve hundred, to rent a generator. We had to pay an arm and a leg for the generator, but at least we were able to find one. Of course, had we know we were going mountain topping we would have brought a generator and a tent. Fortunately, I brought a fifty foot length of 10-2 with ground that we were able to use for an extension cord so that the generator could be located down the hill a little from us. The 110v line that ran the Kenwood TS-930S kept blowing the ground fault. Panic. Finally we hooked the Kenwood to one leg of the 220v and it worked fine. The amplifier was put on line, the 80m dipole was quickly erected, and we were ready to operate.
<![if !vml]>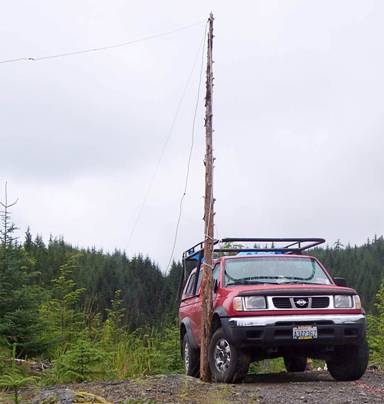 <![endif]>
<![if !vml]>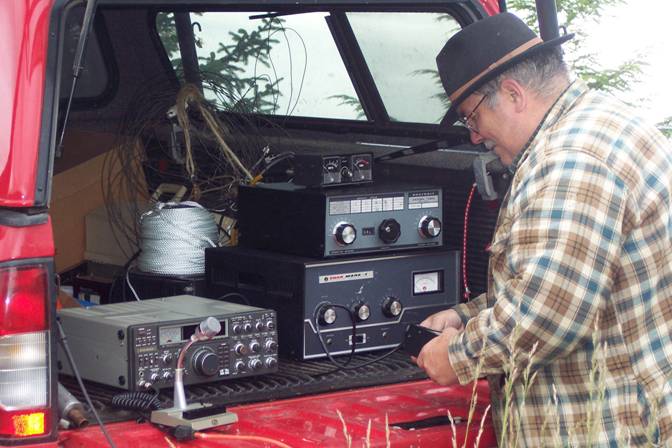 <![endif]>
<![if !vml]>
<![endif]>
The installation worked and we actually made contacts! W7ASF/KL7 was on the air! (The above photo was the view from our hill. We looked down on the ferry lane.)
Being a fan of vintage electronic gear, I brought along a Hallicrafters SR-2000 Hurricane (ca 1964) for our main station. Something happened to it in the jiggling enroute and power was down to 200w – out came the backup station, Kenwood 930S and Swan Mark I amplifier. It worked fine throughout our operations. I was especially pleased with the amplifier. Rich brought a Kenwood TS-50 and ran mobile on the way up, then fed a second dipole on our mountain top. Who says you need to have expensive gear to operate a DXpedition?
Don't overlook the hassle factor. We had to dismantle everything each afternoon. When it rained, which wasn't often, all we had was a makeshift tent that Rich erected out of two small tarps he'd brought along. And there was nothing to eat for lunch but baloney sandwiches. It took a lot of skill for Rich to negotiate the 4WD road up to our operating location, so there was no going back to the apartment during the day. Practically, we were limited to eight to ten hours per day of operation. Since the road was not negotiable after dark, I missed my most hoped for action: contacts with Europe.
We didn't find too many hams who were part of the IOTA program. We did a good job of telling people with whom we spoke about it and encouraging them to start "collecting" islands, starting with ours. Even during the contest, fully half of our contacts were with stations where we were their first contact. There were a few comments of thank you for putting the Alexander Archipelago on the air, but not many. It was a little disappointing.
What wasn't disappointing was the thrill of being in the middle of a pileup and being the station that people wanted to work! I can see why some folks get the contesting bug and spend lots of money and energy going to exotic locales. It was a blast!
We took a day off to go fishing, as any visitor to Alaska should do. We caught a box of salmon and halibut that made good eating when we got home! To tell you the truth, I wasn't too impressed with this kind of fishing. The guide set the depth of our hooks and baited them just so; all we did was troll with the boat and wait for a fish to strike. These fish weren't fighters, so once the hook was set, in they came. Reeling in a halibut was like landing a sheet of plywood. The salmon were a little better (i.e. more of a challenge) but they still came in below my excitement expectation level.
<![if !vml]>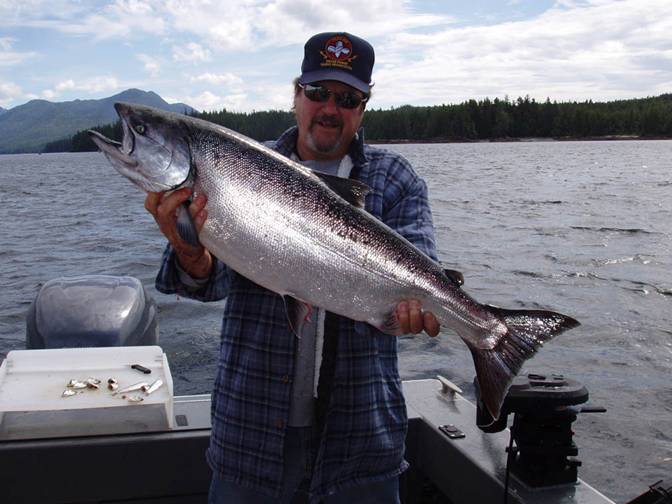 <![endif]>
[Rich with a monster King Salmon]
<![if !vml]>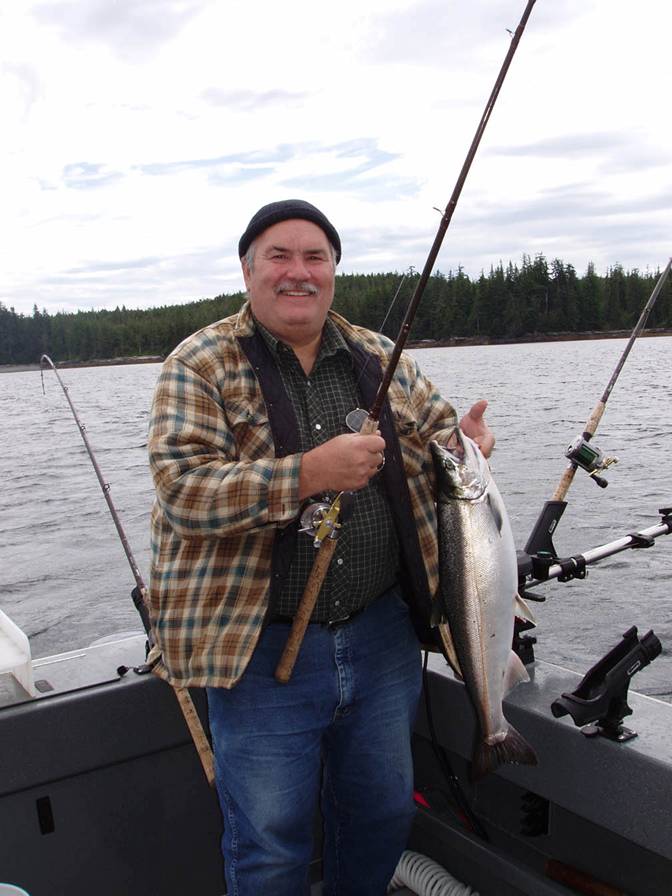 <![endif]>
[Mike with his, well, fish.]
We had an overnight layover in Ketchikan on the way back. I booked a room back in January. We found the hotel easily, but couldn't find a parking lot for them. I had Rich park in front of the hotel while I ran in to get directions. A little old lady with no teeth was behind the counter. I told her that I was there to register, but first, would she tell me where to park? "Well, Kid, park anywhere you like; there's lots of parking on the street." Well, no there wasn't, but I went out to tell Rich and help find a place. Eventually we did find a spot on Tongass Avenue, the main street in Ketchikan, pretty much in front of the hotel. Rich was nervous. His truck held a lot of expensive equipment and it's no trouble to break into a canopy. Besides which, we were parked in front of at least one gay bar and there was a suspicious number of very friendly ladies between us and the hotel. And in the hotel. Hmm.
We spent an uncomfortable night there, but had a great experience the next morning. They provided a continental breakfast that was pretty good and we had a very nice chat with a couple of building contractors from New Orleans. This put us in a good mood for one of the high spots of the trip. We went with Southeast Aviation into the air, flying in an old deHavilland Beaver over the Misty Fjords National Monument.
<![if !vml]>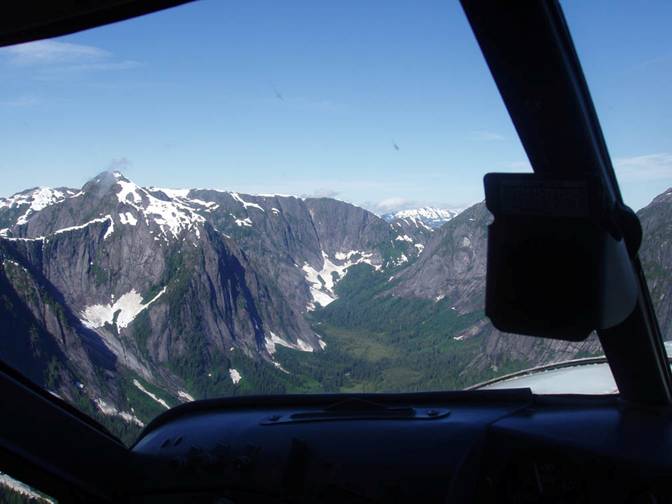 <![endif]>
I should mention some of my mistakes: I brought 'way too much food. Like boxes too much. I did up a menu for our two week trip and packed for that. I didn't allow for the two ferry rides, a day and a half each, where we couldn't get to our food. With the mountain topping, we just made sandwiches for lunch and often got back to the apartment too tired to each much. We took along a computer to log with, which of course we ended up not able to use; there was supposed to be wireless at the apartment, but it didn't work. Since we didn't have a laptop, electronic logging meant taking a whole console and accouterments along; I wouldn't do that again.
So, we did a few things wrong and had a few things go wrong; nevertheless, we overcame the obstacles and had a great time seeing Alaska and being a rare station that everyone wanted to talk to. I look back on the trip fondly.