Star Cinema
History
Elmer Haines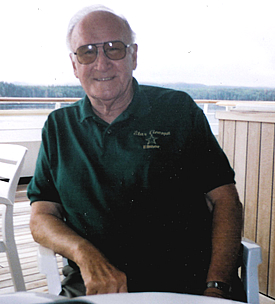 Elmer wearing his Star Cinema shirt on his Alaskan Cruise

Elmer Eugene Haines
July 16, 1923 - March 6, 2004
Elmer Haines, 80, of Stayton died March 6, 2004.
He was born in Chillicothe, Mo. to Omer and Rosa Haines. He graduated from high school at Washington, Mo. and went to Colorado to work in the Climax Molybdenum Mines with his brother, Kennyth.
He started working in the movie theaters when he was just 11years old as an assistant poster boy, and he kept his hand in at Leadville, Colo. and Climax, Colo. running movies while his wife sold tickets in the Employees Recreation Hall. Later he joined Fox Intermountain Theatre and went to Alliance, Neb., then North Platte and finally to Sidney, Neb. as theater manager.
The couple remained there for almost 20 years, during which time they built a new theater, and adopted their daughter Priscilla from the Nebraska Children's Home in 1956. In 1963 Haines was transferred to Los Angeles and opened a new theater in Northridge, Calif. for the company.
After five years he was transferred to Calgary, Alberta, Canada to open theaters and returned to California in 1970 to manage the Bruin Theatre and the Village Theatre in Westwood (UCLA).
He fulfilled his career ambition when he became manager of the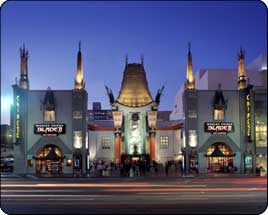 world famous Grauman's Chinese Theatre in Hollywood, Calif. His theaters had many world premieres and he loved meeting and visiting with countless movie stars. After retiring, the couple traveled the world.
Haines enjoyed playing golf with friends. In 2002, the couple moved to Stayton to be near their daughter. Even after moving to Stayton, he could not keep away from the theater business, and found himself volunteering at the Star Cinema where he established a warm friendship with Jeff and Robin Mexico.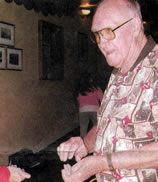 He was preceded in death by his parents, Omer and Rosa Haines; sister, Eldina Davidson; brothers, Kennyth, John and Bernard. He attended numerous rodeos where his granddaughter barrel raced.
His wife, Shirley Wilson, whom he married June 30, 1943 in Climax, survives.
Other survivors include his daughter and son-in-law, Priscilla and John Karr; granddaughter, and numerous nephews and nieces.
A private graveside service is planned at Lone Oak Cemetery.


---
Elmer met a Texas Movie Executive on his Alaskan Cruise due to him wearing the Star Cinema shirt. I forget who the man was, but Elmer said the man pointed out the Star Cinema logo on his shirt which evolved into a long conversation of the movie business and various executives and movie stars they both knew.
I had contacted the Stayton Mail and the Statesman Journal to
write a story on Elmer. The story below is an excerpt from the Stayton Mail. Elmer received a phone call from a man in Salem after reading about Elmer in the Statesman Journal. He was an old friend from Hollywood. He was the cameraman from Johnny Carson's TV Show. His name is Allen Farnum. They were able to get together a few times and talk about the 'good ole days', before Elmer passed away. I feel privileged to be a part of that reunion.
Another person I was able to connect back to Elmer was a man in Nebraska as told in the following:
"While still living in Sidney, Lyle and Ron found part-time work in the area to supplement the occasional checks that Wilda sent from McCook. One job in particular that stands out in Ron's memory was at the Fox Theatre, managed by Elmer Haines. Elmer was a positive influence on Ron at a time when a sixteen year-old was in need of guidance. When the family abruptly moved from Sidney, Ron had no opportunity to express his thanks to Elmer or even say goodbye. This omission was corrected in 2003 when an article in the Salem, Oregon, Statesman Journal highlighted the career of Elmer Haines who now is retired and lives with his wife Shirley in Stayton Oregon. After fifty-eight years, Ron sought him out and was able to say "hello and thanks" to Elmer."
---
Haines has spent time with some of the most popular actors in film history, and he has the pictures to prove it. Gary Kurtz, the producer of "Star Wars," once worked for Haines as an usher, and he calls Dyann Cannon his buddy. She used to buy popcorn from him even when she was going to another theater.

Cindy Williams would go to screenings of various movies and advise Haines on whether to show them or not. He had no control over what played, but that didn't deter her.
Haines didn't start out hobnobbing with the stars, however. He began working for the movie theater in his hometown of Chillicothe, Mo.when he was 11 years old. He lived next door, and the projectionist took a particular interest in him. He had to stand on an orange crate just to put the film in the magazine.
After high school, he moved to Leadville, Colo., where his older brother worked in the mines during WWI. Fox theaters opened a cinema in town, and Haines went down and introduced himself to the manager. He started running the movie house two nights a week.
The company then sent him to Alliance, Neb., and then on to North Flat, and finally, to Sidney, where he stayed for 19 years. He built a new theater there, and he received congratulationary telegrams and autographed pictures from Hollywood notables including Elizabeth Taylor, Rock Hudson, Cary Grant, Clark Gable and Gregory Peck.
In 1963, he was transferred to Northridge, Calif., and then to Canada, where he opened theaters across the western provinces.


He was glad to be sent back to California, this time to Westwood, which was a major showplace at the entrance to University of California-Los Angeles. He said the theater had almost as many premieres as Hollywood did until gang activity made the location unattractive.
And then National General Theaters, which had merged with Fox Theaters, moved him to Grauman's Chinese Theatre.
"I'm the one that had them put Mann's name up there," he said. He had no choice. Owner Ted Mann said he had spent the money, and he could change the name if he wanted. Haines tried to talk him into calling it Mann's-Grauman's, but it was no use.
Haines had fun with the name, though. Tourists would come around asking where Grauman's Theater was.
"It was Grau-Mann's, "he would tell them."Mr. Grau died."
He liked to play other games with the tourists, as well. They often asked to come in and look at the theater without buying a ticket, and while it was against his policy, the would occasionally let a few come in the morning. The drinking fountains in the theater were made from Large Chinese barrels, and he would tell them the water was imported from China. He aid they would believe anything.
The theater is most famous for its forecourt, where about 200 stars have left their hand and footprints. Sometimes people would ask where a certain star's imprints were even though the star had never been there. He would tell them they built the box office over that person's imprints. He said some people got very upset.
Mann decided who would be invited to leave their mark at the theater, but Haines got to make suggestions. One of those was Katharine Hepburn, but she refused because Spencer Tracy had not been asked. Apparently, he and Grauman did not get along well.
While Haines has seen his share of stars acting badly, he prefers to tell different stories.
He said there is a hierarchy in Hollywood, and Western stars are at the very bottom. In the days when Bette Davis was at the top, she attended a reception at the theater. As soon as she entered, she walked across the room and greeted Roy Rogers, telling him how much she admired his work. Haines was impressed.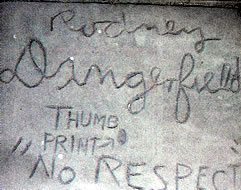 "One of the best footprint ceremonies was George Burns," he said. Even on a Sunday, the press and the public showed up. Burns put a cigar in the cement, along with his hand and footprints. Before haines could take it out to replace it with a wooden one, it was gone. Someone had stolen it.
"You know I used to come here all the time - when I had passes," Burns told Haines.
A french magazine caught onto the idea that the print ceremonies got old for Haines, and it published a Cartoon with Haines kicking a starlet in the rear as she bends over to put her hands in the cement.
He never got to meet Harrison Ford, who played in one of Haines' favorite movies, "Raiders of the Lost Ark."
---
George Burns makes his mark with a cigar

Nov. 25, 1979: George Burns makes a handprint, then cigar print, in cement outside Mann's Chinese Theatre in Hollywood.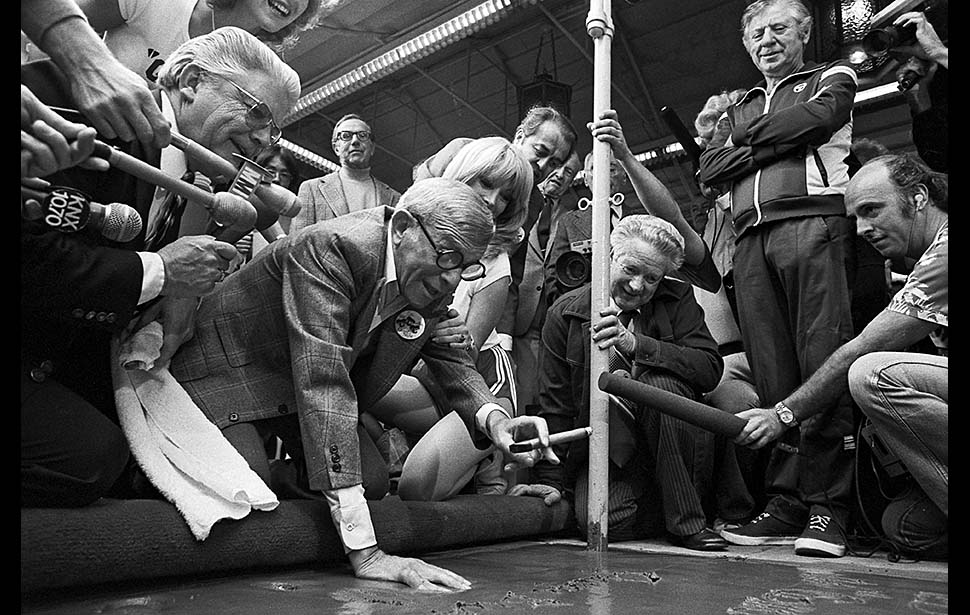 Riddle: What do Charlie McCarthy's monocle, Sonja Henie's skate, Jimmy Durante's nose, Monty Wooley's beard, Al Jolson's knees and Marilyn Monroe's bust have in common?
Answer: Outlines of all are enshrined in cement in the forecourt of Mann's Chinese Theatre on Hollywood Blvd.
Historians will record that on Sunday an 83-year-old man knelt before a gooey square and pressed in cigar into it.
"I smoked between 10 and 15 of these a day," disclosed comedian George Burns. "At my age I've got to hold onto something."
Besides his trademark (which was later replaced by a wooden replica) Burns imprinted in the reddish cement prints of his hands and feet, and signed his name on the date.
Before he showed up, a workman had added a message the entertainer had asked to be included: "Ted-I'm Going In Style." This was addressed to theatre executive Ted Mann and was a plug for the actor's upcoming movie of that title.
"I'm going in style, but not for a hell of a long time," Burns cracked.
His was the 157th square outside the theatre to be glorified with evidence of the famous. The previous one was two years ago by members of the "Star Wars" movie.
It was 52 years ago, when the film house opened, that actress Norma Talmadge stepped out of her limousine on premier night and accidentally found her spiked heel in some wet cement adjacent to the box office.
Not one to overlook a good thing, owner Sid Grauman promptly had her sign her name in the goo.
"When I started out, I sang 'The Sidewalks of New York'," Burns commented Sunday. "Now here I am 76 years later working the sidewalks again."
Celebrities formerly used chopsticks for their scribbling, but theatre manager Elmer Haines said that made a rough imprint, so ballpoint pens are used now.
Burns' square is below that of Barbara Stanwyck and Robert Taylor and adjacent to that of his lifelong friend, Jack Benny…
---
Elmer had lots of stories to tell, along with many jokes. We only got to know him for about a year and a half, and wish we would've met him many years ago. We didn't think we would lose our friend so soon. We had plans to spend more time with him this summer, but it goes to show you that life is very short and we shouldn't take the short time we have for granted. We miss him very much. He was part of our family that you expect to see each week.