Peregine's Children & Magnificent 7
oct 21 - 22


Friday and Saturday only



Welcome to Motor VU
Drive-In
Cinema Treasures, LLC owns and operates the Star Cinema in Stayton, the Motor VU Drive-In and the Fox Theatre in Dallas, OR.
Each of our locations offers the latest in Digital Projection and Sound. The indoor theatres each have hi-brightness Silver Screens and Real-D 3D technology.
315 SE Fir Villa, Dallas, OR 97338 ~ 503-623-4449 (Showtimes)

$20 Min Vehicle Occupancy Charge
1 to 4 people = $20
5 or more people = $5 each
Ages 4 and up
Gates Open at 7pm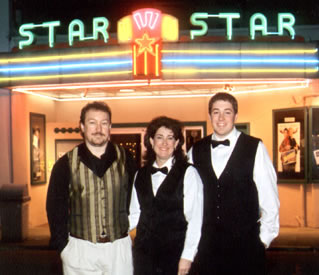 We would like to thank you for your patronage and continued support with our local family friendly and affordable locations. We started this adventure in 2002 and hope to provide on-going entertainment in the years to come. We do care about your experience and satisfaction.
Please LIKE our Facebook page's to get the latest news and updates at each of our locations.
Current & Upcoming
at the Motor VU
Oct 21 - 22


Magnificent 7
Rated PG-13
1 h r 41 min

In this remake of the classic 1960 oater of the same name (itself a Western remake of Akira Kurosawa's masterpiece The Seven Samurai), seven gunslingers are hired to defend a Mexican village from bandits. Denzel Washington, Chris Pratt, Matt Bomer, Haley Bennett, Peter Sarsgaard, Vincent D'Onofrio, Sean Bridgers, Vinnie Jones, and Ethan Hawke star. Directed by Antoine Fuqua.

Coming Soon


Deepwater Horizon
Rated PG-13
1 h r 39 min

On April 20th, 2010, one of the world's largest man-made disasters occurred on the Deepwater Horizon in the Gulf of Mexico. Directed by Peter Berg (Lone Survivor), this story honors the brave men and women whose heroism would save many on board, and change everyone's lives forever.

Oct 21 - 22


Peregrine's Children
Rated PG-13
2 h rs 7 min

From visionary director Tim Burton, and based upon the best-selling novel, comes an unforgettable motion picture experience. When Jake discovers clues to a mystery that spans different worlds and times, he finds a magical place known as Miss Peregrine's Home for Peculiar Children. But the mystery and danger deepen as he gets to know the residents and learns about their special powers...and their powerful enemies. Ultimately, Jake discovers that only his own special "peculiarity" can save his new friends.